By Dick Dornan
BurbankNBeyond Sports Editor
As the CIF Southern Section basketball playoffs begin this Friday, Burbank enters its first-round matchup at Loara High School with nothing to lose and everything to gain.
Behind the driving force of junior captain Richard Elmoyan, the Bulldogs exceeded everyone's expectations this year to the tune of a fourth place finish in the highly competitive Pacific League.
Burbank (15-12) overachieved this season behind the tremendous coaching of first-year coach Jerry DeLaurie and the outstanding play of Elmoyan and company. After graduating 12 seniors from last year's squad and hiring a new coaching staff in August, nobody had Burbank on their radar. Until now.
"I'm happy with where we are. I honestly didn't expect us to be here with the (lack of) varsity experience from last year. But we are doing good overall," said Elmoyan, the only returning player from last season's Bulldogs team. "I feel rather proud that we are here now. As a first year coach, he did a good job of getting us together and believing. Everything has gone great since October, even August."
Elmoyan, 16, has been the heart and soul of a resurgent Burbank program that refused to accept mediocrity but rather strive for excellence. Elmoyan transferred from Hoover during his freshman year and sat out a year of basketball before being declared eligible two games into league action during his sophomore year.
The experience of playing alongside his brother, Simon, built the foundation for his leadership this year.
"From last year's experience I learned a lot. We had 11 or 12 seniors," Elmoyan said. "It affected me on how I play now. I can actually lead a team now."
DeLaurie recognized immediately the unique talents and leadership skills of Elmoyan. When he discovered that the cupboard was bare when he first arrived to coach in August, DeLaurie turned to Elmoyan for leadership and guidance.
"Richard leads by example. He works tremendously hard for us with his energy and passion," DeLaurie said. "His energy level is unbelievable. I don't think anyone in this league plays with as much energy on offense and defense as he does.
"At the same time, he is always helping someone out. It could be his teammate or the team manager. He wants to make people happy. He's a people's person who always thinks about others first."
Elmoyan's unselfish ability on the court can be traced to his willingness to play all five positions for Burbank and never complain. It's all about the team. His toughness is defined by his team-leading 20 charges taken. His leadership has been invaluable to his teammates.
"He lays everything out there on the court," DeLaurie said. "He does the little things that no one notices. The team really respects him. Even though he is only a junior, the seniors respect him as the team's captain."
"I try to be vocal. As captain, I need to talk on and off the court. If I'm on the bench, I'm cheering on the guys on the court. On the court, I'm talking on defense and offense," Elmoyan explained. "Leadership is not something that is easy. My opinion does matter but I also have to listen to others. I have to see what the team needs or wants and go with that. I just have to lead them."
Elmoyan credits DeLaurie for bringing the team together as one unit during the team's trip to San Diego to compete in the Sweetwater Tournament. The Bulldogs went 3-2 against great local competition.
"San Diego really connected us. Coach DeLaurie really did a great job setting up the trip to Sweetwater," Elmoyan said. "We became a family and a team."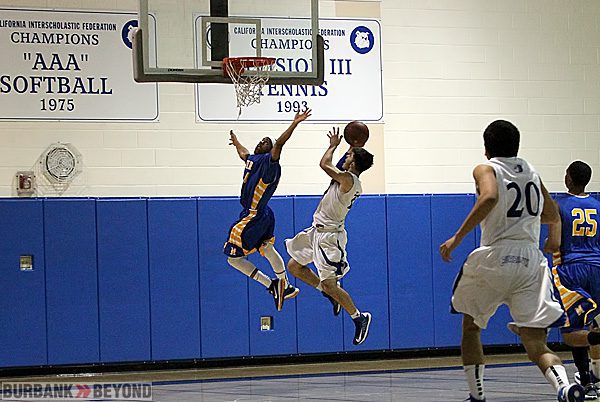 Upon returning from San Diego, Burbank battled to a 7-7 mark in the Pacific League, including wins against Muir and Burroughs and close losses to Crescenta Valley and Pasadena.
Elmoyan, who owns a 3.5 GPA at BHS, admires his idol, Tony Parker of the San Antonio Spurs. Like Parker, Elmoyan speaks French. He recently visited France in April of 2011 to see his Godfather. Upon returning home, Elmoyan bought a No. 9 Tony Parker jersey to remind him of how the game is played the right way.
"He (Tony Parker) is not selfish at all. He always looks for assists and always looks out for his teammates," Elmoyan said. "Overall, he has a beautiful way to play basketball and it's a pleasure to watch him."
The same can be said of Elmoyan. Come to a Burbank game and it's a pleasure to see No. 15 play the game with integrity, passion and desire.
"He's enjoying high school and getting the most out of it," DeLaurie said. "The sky is the limit for him."