Maybe you were lucky enough to see "Light Up The World," Burbank High School's Pop Show 2013.  It deserves every rave review it's received, including the one from myBurbank.com.
Light Up The World was Vegas without the vice. Two-thirds of the acts had the caliber of singing and dancing that would play well from Phoenix to Peoria.  (And the remaining third was very respectable high school.)  The production troika– lighting, sound, wardrobe—were also professional grade.  If an entertainment exec were blindfolded until the curtain came up on Light Up The World, she'd wonder what studio she'd been spirited away to.
And if we were talking about the John Burroughs pop show offering, similar remarks would apply.
Something wonderful has been happening in Burbank. Its been happening for some time now. We've been seeing it here and there, in places like The Colony Theatre.  But most important of all, we've been seeing it in our schools, in performances like Light Up The World.
And now, a critical mass of community support for the arts is starting to form. "What we've found in the last couple of years is that parents are moving to Burbank because of its school system. They believe in their children's talent and they want a high school that will challenge and support them," states Director Brent Carroll.
Joyful students pass by Carroll, buoyed by the energy of an amazing closing night performance last Saturday. "You know," Carroll continues, "Students see our show and say to me that 'they couldn't do that.' And I tell them, 'Join our program. We'll teach you how to do it'."
So often we think that when it comes to talent, "we're either born with it or we're not." But, as Geoff Calvin points out in his pathbreaking book, Talent Is Overrated, what really makes the difference is concentrated practice that constantly takes you out of your comfort zone. You need to do this "deliberate practice" whether you're four or forty.  That kind of practice, more than anything else, is what made Mozart, Mozart. (Go ahead and Google Book Summary: "Talent is Overrated.")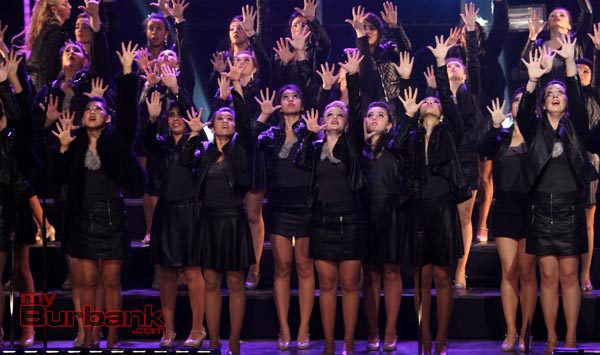 That kind of practice where you're constantly bumping up against your limits and stretching them is tough. Most young people would find it very difficult to do without a lot of encouragement…without a supportive school and a community behind it.
Burbank High is one of those schools. That's why Light Up The World audiences saw a young woman dare to do a complicated tap dance that would be right at home in Riverdance. That's why several other performers were doing daring back flips and cartwheels, and others were doing solos without a safety net.  And that's why a student took on the challenge of designing the show's amazing lighting as well as operating the light board. (See companion article, "Lighting up Light Up The World.")
When students achieve this kind of excellence in the arts, it often spills over into their academic life. The habit of success once acquired makes its mark across a young person's life. This has been confirmed again and again among schools that have had the courage, in this daunting budget climate, to embrace the arts.
Out in space, when enough mass gets together, a star ignites. Here in Burbank, a critical mass of teacher commitment and community support has joined together. And our young people are igniting with a talent that amazes us…and them.