Falcon Theatre founder Garry Marshall said of The Last Act of Lilka Kadison, "I thought this was a pretty special play we have here."  Saturday's standing-ovation audience thought so too.  The play is brilliant. And magical. And must-see.
Lilith Fisher (played by MINDY STERLING) is having a bad hip day.  At 87, she's entitled.  And she's not one to keep her bad moods to herself. Lilith kvetches at her Pakistan-born caregiver Menelik Khan (USMAN ALLY). She rails on the phone at her son in Maine, which is about as far away as he can get from her San Fernando Valley home without leaving the country.
But Lilith has kept a huge secret to herself. One that goes back 70 years, when Hitler and Stalin unleashed hell on Poland and she lost both parents and all her siblings.
Back in 1939 Poland, Lilith was Lilka Kadison (BRITTANY UOMOLEALE), a high-spirited 17-year-old in spite of being very poor and very hungry. By chance she meets Ben Ari Adler (NICHOLAS CUTRO), a charming performance artist who's willing to pay someone to help him write the fractured fairytale version of Solomon and the Queen of Sheba.  She takes up his offer and the story of her secret begins.
But 70 years later, that story has not yet ended. Ben's ghost is haunting Lilith, making her relive the eventful days of their youth in the shadow of invasion and war.
(And incidentally, the Falcon itself apparently had a ghostly visitor, no less than the ghost of Errol Flynn. At least that's what the shaman told the desperate Falcon, who had hired him to stop a stubborn roof leak that seemed to defy the very laws of nature. So a photo of Errol Flynn was hung in the Falcon, and there hasn't been a leak since.)
Back to the play. MINDY STERLING does full justice to dialogue that is by turns hilarious and heartbreaking. USMAN ALLY is totally believable as a caregiver who himself is no stranger to separation and loss. BRITTANY UOMOLEALE and NICHOLS CUTRO have delightful  chemistry together. Director DAN BONNELL must have had his own special chemistry with the actors to draw out such superb performances.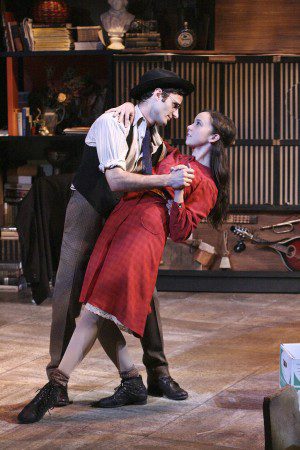 Magic Supervisor CHRISTOPHER HART deserves a special bow for the seamless integration of magic into the developing romance between Lilka and Ben, not an easy feat for live theatre. As Garry Marshall noted, "Magic on a budget is a whole other thing."
Co-Playwight ABBIE PHILLIPS spent her childhood in Burbank only blocks away from the Falcon. "We grew up in a vivid, diverse community of survivors, refugees and even blacklisted artists and musicians." And she came to know that many of them had searing experiences during WWII, with secrets trapped below a hard crust.
Especially for the Europeans who went through it, WW II was an unprecedented nightmare. Never (up to then) had technology been more advanced, and never had so many civilians been wantonly killed. High tech barbarism would leave many survivors with lasting psychic wounds. The Last Act of Lilka Kadison reveals their hidden pain and their enduring humanity in spite of everything.
In Footlights, publisher Peter Finlayson wonders if theatre reviews really bring in the audiences like they had once done. He'd put his money on word-of-mouth instead. He may be right. So I'm hedging my bets and telling my friends and family face-to-face that they must see The Last Act of Lilka Kadison.
Presented by the Falcon Theatre, Abbie Phillips and Jan Kallish, in association with Lookingglass Theatre Company. Continues through Saturday, April 19 at the Falcon Theatre, 4252 Riverside Drive in Burbank. Performances are Wednesdays, Thursdays, Fridays and Saturdays at 8:00 p.m., and Sundays at 4:00 p.m.  Tickets range from $29.50 to $57.00, with group discounts available.  For tickets, call the Falcon Theatre Box Office at (818) 955-8101 or go online at www.falcontheatre.com.