By Joyce Rudolph
Local folks employed by "The Tonight Show With Jay Leno" had several memories to share this week as the epic late night show completed its run on Thursday.
And though they will miss working with the veteran comedian, two employees we spoke to will not be heading for the unemployment line. Their plates are filled with job opportunities right here in the Media City.
Burbank resident Dave Banks has worked for two decades as a freelance cameraman on the show, which has given him time to pick up jobs on the side. He is a three-time Emmy award winning writer, documentary filmmaker and photojournalist who has risked danger in hostile countries to tell his stories.
"I'd spend a lot of time in the Middle East and when I'd come back home, I'd pick up work on the 'Tonight Show', so it was really weird because I was living in two worlds," he said. "I was doing news and documentaries in the Middle East and dodging bullets or being chased by an army and then coming to the 'Tonight Show' — so it was a bizarre, weird, kind of surreal experience for a number of years."
Working the camera on the "Tonight Show" gave him a front-row seat to Leno's monologues. Banks inherited a loud laugh from his mother, he said, so when Banks was off on one of his sojourns, Leno would notice and say, "Where's the guy with the loud laugh?"
Weeks or months later when Banks returned to the set, he always had a big smile on his face.
"Because I'd have free coffee, could hear all the jokes, worked in an air-conditioned building and wasn't in any hostile locations," Banks said. "It was my TV family."
When Banks told people he worked on "The Jay Leno Show", he would always get enthusiastic reactions.
"They'd say 'I love Jay!'" Banks said.
And he agreed with that heart-felt sentiment.
"Jay is absolutely the best boss I have ever worked for."
Banks met his wife working on the show, and Leno often teases them, asking when are they going to start having offspring.
"My wife's Italian which is also a strong connection to Jay who is also Italian and Scottish, and he would always tease her about when the little bambino was going to show up," Banks said.
Although rehearsals are on a tight schedule, there are times Leno will come out and tell the crew jokes.
One of the best guests that Banks has seen come on the show is former Pittsburgh Steelers quarterback Terry Bradshaw.
"They would play off each other," Banks said.
Other celebrities that were a lot of fun on the show were those who enjoyed cars, like Jerry Seinfeld, because cars are Leno's passion.
As the show came to an end, Banks said a new door has opened to him. His first novel is being released on Thursday, and Leno has written the foreword. "Cue the Camels" is a collection of short stories about Banks' travels while documenting stories in the Middle East and North Africa.
There is also a chapter called "Beirut L.A." in which Banks talks about his experience covering the L.A. Riots in 1992. He was also a solo journalist in Afghanistan when the war broke out in 2002.
Solopreneur Publishing has already asked him to write two more books, he said.
"Tonight Show" announcer Wally Wingert started with "The Jay Leno Show" in 2009 and stayed on when Leno returned to "The Tonight Show" in 2010.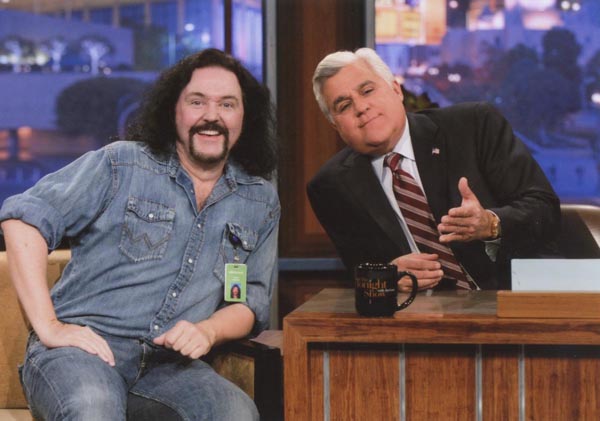 Wingert is a voice actor and spends most of his time in Burbank doing voice-overs for cartoons at Nickelodeon and Cartoon Network, as well as commercials, narrations, promos, video games and trailers.
He and Leno share an appreciation for the "Mannix" TV series that ran from the mid-1960s to mid-'70s and starred Mike Connors. Both watch the DVDs of the show, and Wingert has met Connors at many of the autograph conventions.
"I worked it out for Jay's birthday last April for Mike Connors to come by the studio and surprise Jay and bring him a model kit of Mannix's original Dodge Dart from eBay still wrapped in the original shrink wrap."
Off camera, Wingert heard Leno tell film director Quentin Tarantino, a huge TV fan of 1960s and '70s shows, that Connors had come by to see him and brought him a model car.
"Clearly it had made an impression and Leno used to watch 'Mannix' as a kid with his parents so he has a lot of fond memories of it," Wingert said. "You know Jay has all sorts of 'A-list' celebrities on the show all the time so he's used to that but somebody like Mike Connors can come in and completely melt his heart."