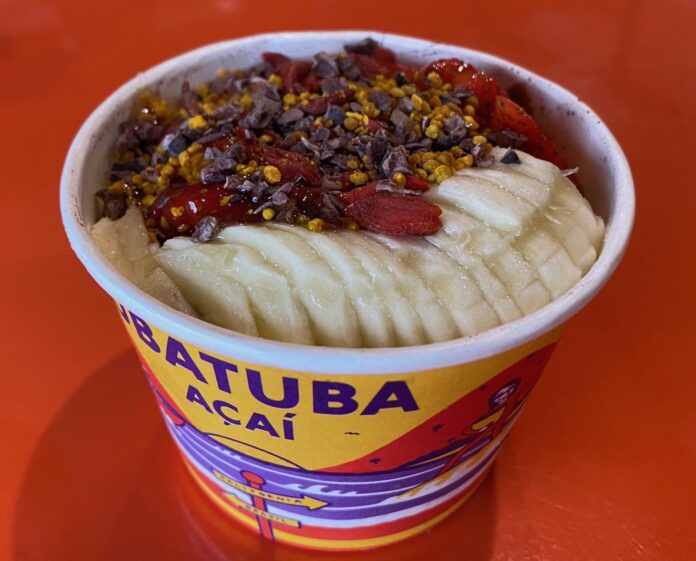 For those looking for an excellent acai bowl, tasty empanada or creative smoothie, Ubatuba Acai in Burbank has some terrific options on their specialized menu and a very quick turnaround. The trendy chain has nearly 20 locations in Southern California, and what they do, they do really well.
Located near McCambridge Park in a strip mall on San Fernando Boulevard, Ubatuba Acai serves up our personal favorite frozen acai in town. While a small is pricey at $9.50, the bowl is highly customizable and will be filled to the brim.
First, choose a base from Chia Pudding, Mango, Pitaya, Overnight Oats, Matcha, Agave Coconut or Acai. Then decide the amount of base in the bowl and the toppings. While the typical base includes strawberry, banana and honey nut granola, one can select from an exhaustive list of toppings including yogurt, hemp granola, toasted coconut, pineapple, granola almond, peanut butter, pacoca, passion fruit, oreo, nutella, milk powder, mango, honey drizzle, blueberry, almond butter, agave drizzle, goji berries, flax seed, dates, chocolate chips, date drizzle, chia seeds, carob chips, cacao nibs, bee pollen, almonds and condensed milk.
The quick serve restaurant also offers a variety of empanadas made fresh daily by Nonna's Empanadas, which has its own store fronts at The Americana in Glendale, The Original Farmer's Market and on Third Street in Los Angeles.
Empanada varieties available are traditional beef, samosa (pea and potato), mushroom, nutella, tomato, spinach, mac and cheese and a selection of plant-based "meats" such as Beyond, Beyond Philly Cheese, Chiken, Chik'n Salsa Verde and Chik'n Jalapeno.
We really enjoyed the two empanadas we sampled, which are baked not fried. The traditional beef was excellent, with quality ground beef, green olive and garlic. The mac and cheese was perfectly cheesy, with a great consistency and flavor. Topped with either or both of the red hot sauce and the vinegary chimichurri, the empanadas were very tasty. They are a little expensive at $5.75 each, but are very filling.
Ubatuba Acai also offers Pao de Queijo, a gluten-free cheese bread made with tapioca and Brazilian soda Guarana, along with a number of customizable smoothies, water and apple juice.
For excellent sweet and nutritious treats, reliably delicious empanadas and quick service, Ubatuba Acai earns a Tops In Town.
Restaurant Info: Ubatuba Acai is located at 1212 N. San Fernando Boulevard, Burbank, CA 91504. (818) 391-6622. Ubatuba Acai is open daily 9:00 a.m. to 9:00 p.m.

Ubatuba Acai receives: Tops In Town

myBurbank Ratings:
Tops In Town (Outstanding)
On The Marquee (Really Good)
Could Use A Rewrite (Average or Slightly Below)
Don't Quit Your Day Job (Poor)