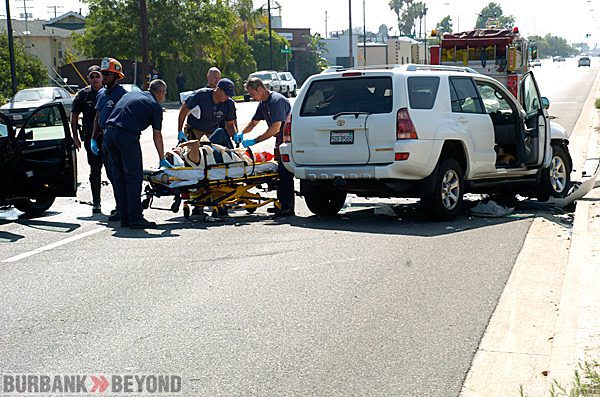 ED NOTE: This story was edited on July 3 —The age of the suspect in the Burbank Police release is 20 years-old and the age it states in the arrest report says 22 years-old.
A Burbank man accused of stealing a car, is in jail after he fled from police and ended up crashing into a another car, sending a female motorist to the hospital with serious injuries.
The incident began Wednesday afternoon 3:16 p.m., when a Burbank Police motor officers was conducting a routine speed enforcement detail on Vanowen St. near Niagara St.  The officer observed a black vehicle traveling at a high rate of speed towards his location.  The officer attempted to pull the vehicle over, but the driver failed to yield to the officer's  lights and siren on the motorcycle.  Instead, the driver tuned, heading into the residential area south of Vanowen.
The driver accelerated in an attempt to flee from the pursuing motorcycle officer, making several turns on the residential streets in the area.  Eventually, he turned back towards Vanowen.  When he attempted to make a right turn on Vanowen, the driver crossed over into the westbound lanes of Vanowen and struck a white Toyota 4Runner head-on.  Both vehicles sustained major damage in the collision, and came to rest in the westbound lanes of Vanowen at Fairview St.
The driver of the Toyota 4Runner, a 50 year-old North Hollywood woman, was transported to Providence Holy Cross Hospital in Mission Hills.  According to police, she sustained a compound fracture of her lower leg.  She was the only occupant in her vehicle.
The suspect, Ian MacNeill, 22, of Burbank, was transported to Providence St. Joseph Medical Center with a complaint of pain.  Once he was cleared by doctors, he was booked into the Burbank Jail for felony evading causing injury, driving a stolen vehicle, and a parole violation for an unrelated offense.  He is being held without bail.